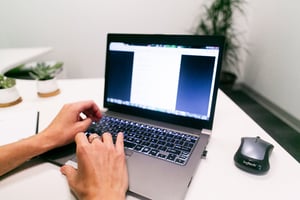 Here at Novasyte Health, an IQVIA™ company, we hire specialized consultants to support our MedTech client partners on our Contract Clinical, Field Technical, and S.M.A.R.T. Recall Programs. We build, deploy, manage and measure our teams in the field with the goal of providing the highest-quality individuals to represent our clients in their customers' facilities.
We have built a detailed interview process that every candidate must go through before joining our team. We see thousands of resumes and are constantly looking to expand our current network of more than 2,200 consultants.
As a job seeking candidate exploring new opportunities, it can be challenging to decide what to include or highlight on your resume. Here are our top five tips on resume mistakes to avoid.
1. Spelling Errors and Grammar Mistakes
Proof reading and paying attention to all spelling and grammar issues will make a significant difference in whether or not you get a call back. It reflects your personal brand by illustrating your level of polish and attention to detail.
According to one of our Account Managers, Alyssa Sanchez, "approximately one out of every five resumes we review has a spelling error." Having a third-party family member or friend to provide a final review can help you get to the next step.
2. Avoid Pictures of Yourself
Considering we usually share photos online and posts pictures of ourselves on sites such as Facebook and LinkedIn, you might wonder if its appropriate to upload a photo of your self on your resume. We recommend against it for several reasons. While this is not done at Novasyte, some organizations no longer scan resumes with a photo inserted as it increases their risk of potential discrimination based on the way a candidate looks. Additionally, it distracts from your experience. Although it may look more artistic, it does have a tendency to look less professional.
3. Avoid U

sing Quotes from References
Your resume is a place for you to show off your qualifications and experience. While you may be tempted to quote a prior boss or colleague in your resume, we recommend you keep your references as an appendix to your resume and keep the "quotable language" in context of the larger recommendation.
4.

Chronologically Organize Your Work Experience
Organizing your most recent work experience in chronological order (most recent at the top) makes it easier for recruiters to find your latest role.
5. Ensure You Have a Professional Email Address
Also, be mindful of the professionalism of your email address. Something referencing "CaliChick" or "MollyMomisBomb" is perhaps not the initial impression you want to give to a new employer. On the other hand, depending on the role, perhaps it is. Being mindful is the most important recommendation here.
Explore more about Novasyte Health and our programs by clicking on the links below.