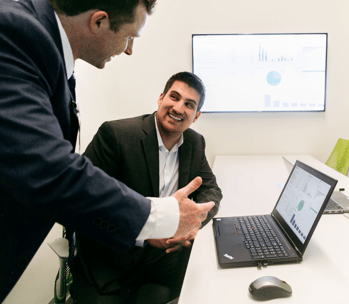 The importance of providing and fearlessly seeking feedback at Novasyte goes back to the Company's inception in 2008. This cultural priority is not simply a theory discussed at the annual company meeting, but a living, breathing, organically-developed reality of the day-to-day environment that allows for cross-departmental synergies to develop, relationships to grow, and issues to be resolved in real-time.
This includes the complete transparency Novasyte requests of every client partner and the customized support that is delivered in return.
For many years, Novasyte has managed and measured satisfaction with a robust survey management system that allows for issues to be addressed within one hour following submission and resolved within 24 hours.
This commitment and the development of customized service delivery channels has contributed to Novasyte consistently achieving a client net promoter score of 81. For those less familiar with net promoter scores, an Inc. article explains they are "based on the global NPS standards, [and] any score above 0 would be considered "good" (50 and above being excellent while 70 and above is considered "world class")."

"Achieving mutual success starts with achieving exceptional client satisfaction," said Todd Schaefer, Senior VP of Sales and Marketing. "With the unique products, business demands and market challenges that each of our client partners face, we must be agile and ready to customize our support to meet their needs. Our process for reviewing, responding, addressing and reporting on all of this highly-valuable data is something that truly sets us apart as an outsourced services provider in the medical device and pharmaceutical industries."
The rigor and process identified to address both short and long-term challenges is folded into Novasyte's ISO 9001:2015 certified quality management system. Novasyte's investment in quality starts with controlled processes and allows for the delivery of consistent results for our client partners.