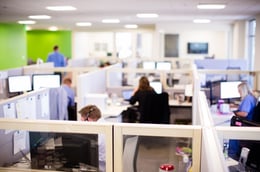 **UPDATE as of March 2020: Novasyte's Quality Management Systems have been re-certified through March 2023. Download the ISO 9001:2015 Certificate here.
ANAB, an official accreditation body for ISO 9001:2015 standards, granted Novasyte ISO 9001:2015 certification for our quality management systems (QMS).

Globally recognized and respected, ISO standards are set by the International Organization for Standardization (ISO), a Geneva-based worldwide federation of national standard bodies. This certification demonstrates our dedication to and implementation of a systematic and quantifiable approach to quality-of-service standards through a rigorous auditing process.

"ISO 9001:2015 certification is an important milestone for Novasyte and validates our unwavering commitment to delivering the highest quality service and satisfaction that our med-tech clients have come to expect," said
Joe Andrew
, SVP of Operations and Quality. "Our quality management system provides reassurance to our clients that we will continue our long tradition of developing and providing services and support of the highest caliber."

ISO 9001:2015 standards

specify

organizational requirements for leadership, documentation, competency, operations and design/development for a quality management system and are important for a business focused on demonstrating its ability to consistently provide services that meet client satisfaction and applicable regulatory requirements.

In achieving ISO 9001: 2015 certification, we formalized many of the existing processes that were being followed internally, and unified the organization nationally with a set of standards and baselines in place to ensure each team continues to exceed expectations for quality client service and outsourcing support.
"We are proud to join over 1,500,000 organizations across the globe that have established ISO 9001 as the preferred quality management system standard," said Tim Gleeson, CEO. "Throughout the certification process, our team did an outstanding job implementing and adhering to the rigorous requirements specified by the ISO 9001:2015 standards. This certification further bolsters our continued commitment to client service, reliability, and industry-leading solutions for our med-tech clients."