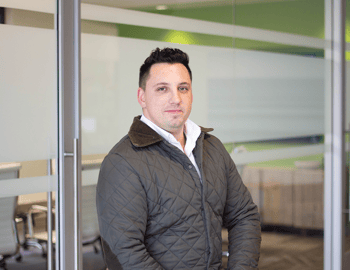 Novasyte Health, an IQVIA™ company, is proud to welcome its newest member of the corporate team, Tim Towner, who officially started his role as Account Executive in early November 2019.
Learn more about Tim with his Q&A session below.
"Why did you decide to join the Novasyte team?"
I wanted to join a company that placed a heavy emphasis on culture. Novasyte Health immediately stood out as a place that values its employees and provides a workplace that is both comfortable and fun.
"What do you hope to contribute to our growing organization?"
I hope to contribute a positive mentality toward challenges and a friendly and approachable leadership style.
"Where are you from originally?"
England - United Kingdom
"Who inspires you?"
Dave Grohl (lead singer of the Foo Fighters) continuously inspires me as he is not only an exceptional human being, but he is also extremely positive on his outlook toward life. As a musician, I also respect and am inspired by his creativity and abilities.
"Where is your favorite place in the world?"
Chania in Crete, Greece
"What was the best concert you have ever attended?"
Foo Fighters live at Leeds Festival
"What is a fun fact about you?"
I play five instruments. I also play drums in the band Bedlam Rebels.
--
Novasyte Health is hiring! Interested in joining our team? Apply for one of our available positions today!
-------------------------