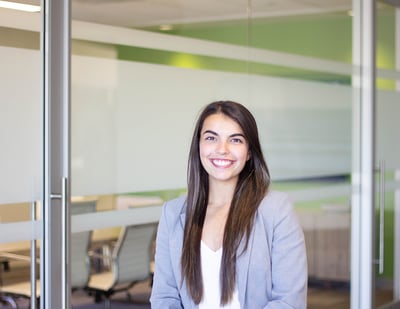 Novasyte Health, an IQVIA™ company, is proud to welcome its newest member of the corporate team, Sidney Begtzos, who officially started her role as Healthcare Recruiter in early October 2019.
Learn more about Sidney with her Q&A session below.
"Why did you decide to join the Novasyte team?"
I moved to California and was looking for a position that would allow me to interact with others in some form of healthcare. I Ioved the culture and the vibes from my first interview and knew I wanted to be apart of the growing Novasyte Health team.
"What do you hope to contribute to our growing organization?"
I would love to help make fun health and wellness programs for everyone to be apart of in the company.
"Where are you from originally?"
Flint, Michigan
"Who inspires you?"
Both of my parents inspire me, but my grandpa has always inspired me the most.
"Where is your favorite place in the world?"
An Island on Lake Huron called Bois Blanc
"What was the best concert you have ever attended?"
Seven Lions concert in Detroit, Michigan
"What is a fun fact about you?"
I wasn't taught to spell my name the "legal" way. I grew up always spelling my name "Sydney" and then I was getting my driver's permit and I saw all the legal documentation spelled my name "Sidney." I am guessing my dad spelled it wrong at the hospital and never looked back. I still always prefer Sydney.
--
We're hiring! Interested in joining our team? Apply for one of our available positions today!
-------------------------