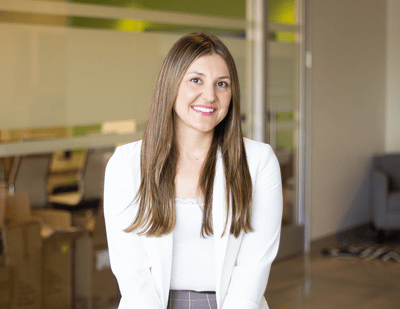 Novasyte Health, an IQVIA™ company, is proud to welcome its newest member of the corporate team, Samantha Vidojevska, who officially started her role as Healthcare Recruiter in March 2021.
Learn more about Samantha with her Q&A session below.
"Why did you decide to join the Novasyte team?"
When I saw that the recruiter position was available at Novasyte, I reached out to one of our associates and within a day, I received communication to set up an interview. There was a genuine warmth about the interviewers and I knew that company culture was really important to them. There was also full transparency in the interview process and it calms your nerves as an interviewee to know what the next steps will be.
"What do you hope to contribute to our growing organization?"
I hope to be a reliable teammate to the healthcare recruiters and for them to be able to have an open line of communication with me. With this in mind, we can fill positions faster and be able to bring on new clients to grow the company.
"Where are you from originally?"
I am originally from San Marcos and I currently live in Vista. I am a California girl at heart. I am full Macedonian and the first generation of my family born in America.
"Who inspires you?"
My parents inspire me the most because they have been through so much in their lives and they continue to keep pushing through the hard times. They maintain grace and dignity even when it is tough to do so and have never stopped supporting and providing the most love for their children.
"Where is your favorite place in the world?"
My favorite place is Dubrovnik, Croatia because of the beautiful coastline, amazing historical structures and the great food!
"What was the best concert you have ever attended?"
The Eagles
"What is a fun fact about you?"
I like to twirl batons which includes twirling fire.
--
Novasyte Health is hiring! View our open positions and apply to join our team.
-------------------------