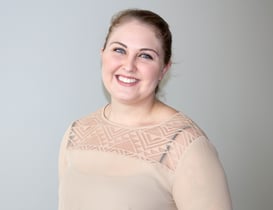 Novasyte is proud to welcome its newest member of the corporate team, Sam Hunter, who officially started in her role of Corporate Scheduler on Monday, March 12th.
Learn more about Sam with her Q&A session below.
"Why did you decide to join the Novasyte team?"
I decided to join Novasyte because I was looking for a company that had a culture that made me enjoy coming to work. The opportunity for growth at Novasyte was also a plus.
"Where were you working prior to Novasyte?"
Prior to Novasyte, I worked as a claims adjuster for Mercury Insurance.
"What do you hope to be able to contribute to our growing organization?"
I hope to help grow the already amazing culture here at Novasyte. I would like to contribute to maintaining the amazing work quality here.
"Where are you from originally?"
I grew up in Oceanside. I went to college at San Diego State University.
"Who inspires you?"
The women in my life inspire me including my mom, sister, and friends.
"Where is your favorite place in the world?"
Home.
"What was the best concert you have ever attended?"
The best concert I attended has been the Stagecoach Country Music Festival.
"What is a fun fact about you?"
I have a collection of about 30 lawn gnomes.
-------------------------
Learn more about Sam on LinkedIn.