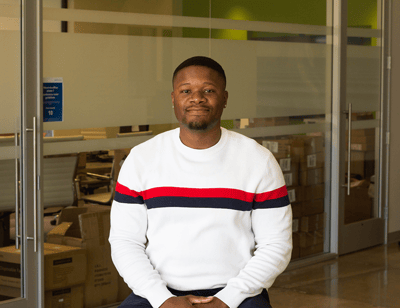 Novasyte Health, an IQVIA™ company, is proud to welcome its newest member of the corporate team, Ronnell Pompey, who officially started his role as Account Executive in May 2021.
Learn more about Ronnell with his Q&A session below.
"Why did you decide to join the Novasyte team?"
I decided to join the Novasyte team after a good friend of mine told me how great the company was. Now, I am starting to experience the greatness myself.
"What do you hope to contribute to our growing organization?"
I hope to contribute transparency and positivity to all, as well as a strong work ethic that keeps me driven to accomplish more.
"Where are you from originally?"
Los Angeles, California
"Who inspires you?"
My mother inspires me. I came from a very humble background and she did her best. I am patiently waiting on the day I can tell her she doesn't have to work anymore.
"Where is your favorite place in the world?"
My favorite place is a nice beach at night.
"What was the best concert you have ever attended?"
The best concert I've ever attended would be the rapper Future performing live in Phoenix, Arizona.
"What is a fun fact about you?"
A fun fact would be I love to have a good time. Regardless of what it is and where I am at, I will do my best to have a good time.
--
We're hiring! Apply for one of our latest openings to join the Novasyte Health team today.
-------------------------