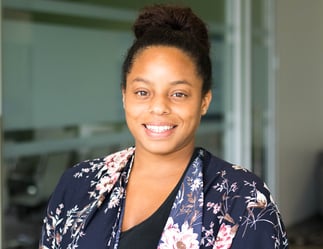 Novasyte is proud to welcome its newest member of the corporate team, Odessa Woodburn, who officially started in her role of Travel and Expense Coordinator on Monday, July 9th.
Learn more about Odessa with her Q&A session below.
"Why did you decide to join the Novasyte team?"
I decided to join the Novasyte team because of the positive environment; not to mention the ability to expand my growth and advancement.
"Where were you working prior to Novasyte?"
I was previously working for Disneyland's union called IATSE 504 out in Anaheim, CA.
"What do you hope to be able to contribute to our growing organization?"
I hope to bring my positive spirit and bubbly personality along with my unique vision for the growing company.
"Where are you from originally?"
I am original from Yuma, Arizona but moved to Orange County when I was about 4. I recently moved to Oceanside, CA in March of 2018.
"Who inspires you?"
Honestly, everyone. I've seen so many wonderful human beings who have reached goals and things that they couldn't have imagined which inspires me to reach for every goal I set for myself.
"Where is your favorite place in the world?"
Beach! I LOVE the beach. Peaceful and relaxing - I can just stare out into the open for hours not realizing how much time passes.
"What was the best concert you have ever attended?"
I have yet to attend a concert. When I do, ya'll be the first to know of it!
"What is a fun fact about you?"
A fun fact about me is that I love forensics.
-------------------------
Learn more about Odessa on LinkedIn.