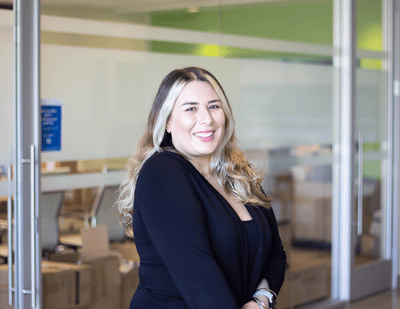 Novasyte Health, an IQVIA™ company, is proud to welcome its newest member of the corporate team, Monika Garcia, who officially started her role as Healthcare Recruiter in December 2020.
Learn more about Monika with her Q&A session below.
"Why did you decide to join the Novasyte team?"
I decided to join Novasyte because while I interviewed for the Recruiter position, I had an immediate connection with some of the employees. They are so encouraging for my professional growth and I was able to sense Novayste's team-oriented culture right away. I knew I belonged.
"What do you hope to contribute to our growing organization?"
I hope to contribute my organizational and detail-oriented skills to the organization. I want to lend a helping hand in any way I can. I desire to help the team become more efficient in getting day-to-day activities done! I also hope to radiate my positive energy to everyone on the team.
"Where are you from originally?"
Chula Vista (San Diego), CA
"Who inspires you?"
Sonya, my good friend and now co-worker, inspires me because she always finds ways to be more efficient. She always wants to be better and is very receptive to feedback. She inspires me to do my best at work every day, and more importantly, to always be myself! I want to work as diligently and gracefully as she does.
"Where is your favorite place in the world?"
I visited Munich, Germany in 2017 and it felt like being in San Diego. I love how simple, yet lively, the city is.
"What was the best concert you have ever attended?"
CRSSD 2019 was the best concert/festival I have attended. Every artist I saw that day blew me away. I cannot pick just one DJ.
"What is a fun fact about you?"
I am an EDM enthusiast. I enjoy House music the most and I've attended many festivals. I enjoy music so much and it makes me so happy it's indescribable.
--
Are you interested in joining the Novasyte Health team? View our latest job openings and apply now.
-------------------------