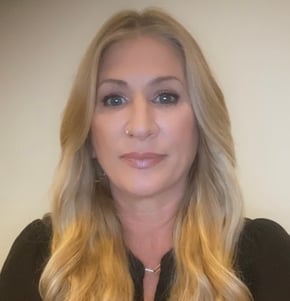 Novasyte Health, an IQVIA™ company, is proud to welcome its newest member of the corporate team, Kristy Picornell, who officially started her role as Account Executive in March 2022.
Learn more about Kristy with her Q&A session below.
"Why did you decide to join the Novasyte team?"
I have been working for Novasyte for more than 11 years as a Clinical Educator, Clinical Lead and Clinical Trainer out in the field. I enjoyed working for Novasyte and my coworkers have been amazing. The management team has always been supportive and accessible to me for any questions or issues. I believe my unique perspective working in both clinical and corporate healthcare will be an asset to my Novasyte team in my new role.
"What do you hope to contribute to our growing organization?"
I hope to contribute leadership and perspective.
"Where are you from originally?"
I am originally from Cincinnati, Ohio but I have been living in Miami, Florida for almost 20 years.
"Who inspires you?"
Oprah Winfrey. She never let past experiences or failures define her. She focused on her potential, her goals and her dreams. She continuously worked on self improvement through learning experiences whether it be education, taking risks and exploring different career avenues, or serving others. She shows others that a strong work ethic, dedication and a positive mindset are keys to your own success. She never became complacent and continued to grow making intentional authentic choices leading to her
becoming one of the most successful women entrepreneurs of our time.
"Where is your favorite place in the world?"
That's a tough one! I have many. I love Costa Rica and Cartagena.
"What was the best concert you have ever attended?"
Envision Festival
"What is a fun fact about you?"
I love scavenger hunts. I started participating in scavenger hunts as a child in girl scouts, then swim team. In my adulthood, I would host a fall scavenger hunt with my family and friends starting in the afternoon and ending in the evening with our awards ceremony congratulating our winning first, second and third-place teams and a celebratory potluck party.
--
Novasyte Health is hiring! Apply today to join our team.
-------------------------