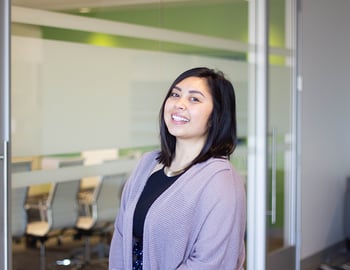 Novasyte Health, an IQVIA™ company, is proud to welcome its newest member of the corporate team, Kristina Gatus, who officially started her role as Office Manager in December 2019.
Learn more about Kristina with her Q&A session below.
"Why did you decide to join the Novasyte team?"
When I interviewed, I fell in love with the work culture and I really believed in the company's mission and goals when I spoke with Tim, Joe and other employees. I want to help spread Novasyte's mission!
"What do you hope to contribute to our growing organization?"
I hope to contribute positive energy, efficiency and creative ideas!
"Where are you from originally?"
I grew up in Corona and went to college and worked in Orange County.
"Who inspires you?"
My old car mechanic, Mohammad! Whenever I think of someone who is wholehearted, selfless and genuine, I always think of Mohammad. He genuinely strives to make other people's lives so much better. He not only fixes people's cars, but he also benefits people's souls as well.
"Where is your favorite place in the world?"
Ooooh, I couldn't say - Philippines, Thailand and Spain are up there though!
"What was the best concert you have ever attended?"
Illenium, Seven Lions, Usher and Common Kings
"What is a fun fact about you?"
I love smelling paper ... weird, I know!
--
We are hiring! Join our team today by applying for one of our open positions!
-------------------------