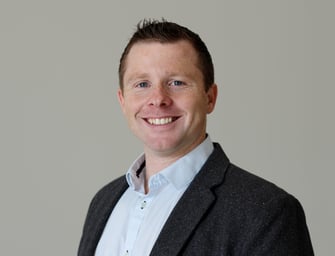 Novasyte is proud to welcome its newest member of the corporate team, Kenny Parks, who officially started in his role of Accounting Manager on Monday, October 30.
Learn more about Kenny with his Q&A session below.
"Why did you decide to join the Novasyte team?"
I decided to join the Novasyte team because the company is at an exciting growth stage where my work will directly contribute to the success of the company. Also, the culture and work environment are second to none!
"What do you hope to be able to contribute to our growing organization?"
I'm hoping to contribute to the growth of the company and add value by applying the knowledge and skill sets I have developed throughout my career.
"Where are you from originally?"
I'm originally from Connecticut, but I grew up in Northern Indiana – much different than Southern California!
"Who inspires you?"
My parents have inspired me throughout my life by teaching me the value of hard work and humility, while always providing unconditional love.
"Where is your favorite place in the world?"
My favorite place in the world would be Bloomington, Indiana. There may be better places to travel to in the world, but I have many great memories going to school in this town.
"What was the best concert you have ever attended?"
The best concert that I ever attended was OAR, shortly after moving to San Diego.
"What is a fun fact about you?"
I was a successful, competitive cyclist during my college years at Indiana University.
-------------------------
Learn more about Kenny on LinkedIn.