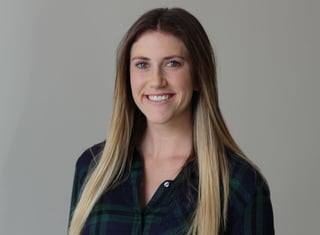 Novasyte is proud to welcome its newest member of the corporate team, Kati Turner, who officially started in her role of Healthcare Recruiter on Monday, November 27.
Learn more about Kati with her Q&A session below.
"Why did you decide to join the Novasyte team?"
I decided to join the Novasyte team because it is growing rapidly and has a lot of potential with all of the upcoming endeavours. I am honored to have the opportunity to be a part of the growth. I enjoy the upbeat vibe it has to offer and the amazingly kind people I get to work alongside with!
"Where were you working prior to Novasyte?"
I was a nanny in Newport Beach after I graduated college and got to travel.
"What do you hope to be able to contribute to our growing organization?"
I hope to contribute my competitive, determined and driven personality to help our company continue to grow.
"Where are you from originally?"
I was born and raised in San Diego county and have lived in Oceanside most of my life. I went to Concordia University-Irvine and lived up in Orange County while I was in school for 4 years and then 2 years after and just moved back down to Oceanside!
"Who inspires you?"
My grandfather who has passed and my mother. My grandfather always was determined and led his own path of what he wanted to do.
"Where is your favorite place in the world?"
Anywhere out in the country where there is a lot of land and beautiful views or where I can be watching the New England Patriots in person or on the television!
"What was the best concert you have ever attended?"
That is a tough one since I am an avid concert goer. Most recently the Thomas Rhett, Old Dominion and Walker Hayes concert was probably the best I have seen performance wise. Other than that my favorite is Stagecoach every year where I enjoy country concerts for 3 days!
"What is a fun fact about you?"
I played collegiate softball and won a National Championship.
-------------------------
Learn more about Kati on LinkedIn.