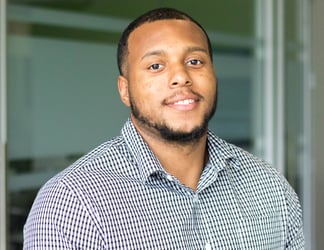 Novasyte is proud to welcome its newest member of the corporate team, Joshua Hogan, who officially started in his role of Healthcare Recruiter on Monday, July 9th.
Learn more about Joshua with his Q&A session below.
"Why did you decide to join the Novasyte team?"
I joined Novasyte to be a part of this great atmosphere of hard working individuals while gaining great experience in recruiting and healthcare in general.
"Where were you working prior to Novasyte?"
Gary Sanitary Department as a Inspector for water, PH levels, and code enforcement.
"What do you hope to be able to contribute to our growing organization?"
I hope to contribute a positive, fun, and high energetic attitude in the work environment and to our potential candidates that we communicate with here at Novasyte. I also hope to be responsible for submitting many qualified candidates to the company.
"Where are you from originally?"
I am originally from Gary, Indiana.
"Who inspires you?"
I would say my parents inspire me the most due to all of the obstacles they have come up against, still managing to work through them, and become successful. I would also say my small, great group of friends who are extremely competitive and hardworking.
"Where is your favorite place in the world?"
California and wherever my mom is.
"What was the best concert you have ever attended?"
The best concert I ever attended was a J. Cole concert at the United Center in Chicago.
"What is a fun fact about you?"
I love poetry and spoken word (preferably listening).
-------------------------
Learn more about Joshua on LinkedIn.