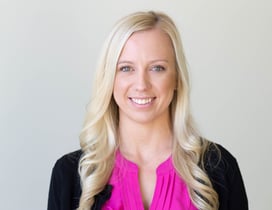 Novasyte is proud to welcome its newest member of the corporate team, Jolene Rice, who officially started in her role of Account Executive on Monday, December 11th.
Learn more about Jolene with her Q&A session below.
"Why did you decide to join the Novasyte team?"
I was immediately drawn to Novasyte's positive and energetic culture and collaborative team environment.
"Where were you working prior to Novasyte?"
Prior to Novasyte, I was working for Freelance Physician; a physician-owned, private staffing and recruiting company based in San Diego, as an Account Manager.
"What do you hope to be able to contribute to our growing organization?"
I hope to be able to contribute my knowledge of working in a variety of healthcare settings (primary care clinics, skilled nursing facilities, etc.) and collaborate directly with healthcare professionals to develop relationships and build rapport with our consultants and help Novasyte continue to grow.
"Where are you from originally?"
I am originally from Portland, OR and have been in San Diego for about 1.5 years!
"Who inspires you?"
My mom inspires me to be the best person I can be and is the strongest person I know.
"Where is your favorite place in the world?"
Anywhere on a warm, beautiful beach! I absolutely love the ocean and those amazing beach sunsets.
"What was the best concert you have ever attended?"
The best concert I attended was Luke Bryan at the Sleep Train Amphitheater last year! I love the outdoor concert atmosphere and country is just the best.
"What is a fun fact about you?"
I did competitive dance (ballet, jazz, hip-hop, etc.) since the age of 9 and we placed 3rd at UDA Nationals on my team in college.
-------------------------
Learn more about Jolene on LinkedIn.