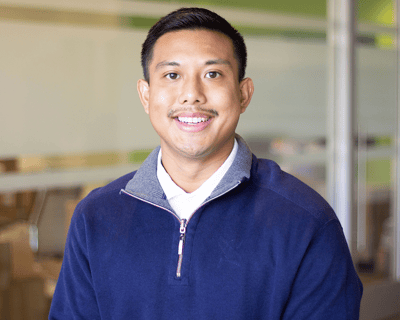 Novasyte Health, an IQVIA™ company, is proud to welcome its newest member of the corporate team, Jeremy Paggao, who officially started his role as Healthcare Recruiter in early November 2020.
Learn more about Jeremy with his Q&A session below.
"Why did you decide to join the Novasyte team?"
I wanted to try something new in my life, grow as a person and help make a difference. Novasyte was the perfect opportunity for those things. Also, the opportunity to live in San Diego and with one of my best friends was hard to pass up.
"What do you hope to contribute to our growing organization?"
I hope to contribute my work ethic and teamwork-oriented attitude to this growing organization. I believe my personality fits into the culture of Novasyte.
"Where are you from originally?"
I am from the Santa Clarita Valley in a small town called Castaic. Our main attraction in SCV is Six Flags Magic Mountain.
"Who inspires you?"
My mother, my friends and my mentors inspire me. My mother taught me how to be strong in the face of adversity, my friends taught me how to love through good and bad, and my mentors see the potential in me that I don't that helps push me forward and grow.
"Where is your favorite place in the world?"
There is a Young Life camp called Woodleaf in Challenge, CA. It is where I met some of the best people a person could ask for.
"What was the best concert you have ever attended?"
I have only attended one concert and that was EDC (Electronic Daisy Carnival), which is the biggest electronic dance music festival of the year. It was a great experience and I loved the music.
"What is a fun fact about you?"
I got kicked out of the game show "Let's Make A Deal."
--
Looking to start a new career with Novasyte Health? Apply today to join our team.
-------------------------