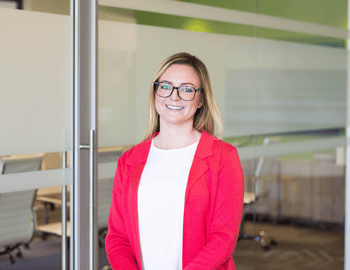 Novasyte Health, an IQVIA™ company, is proud to welcome its newest member of the corporate team, Grace Cooley, who officially started her role as Account Executive in October 2019.
Learn more about Grace with her Q&A session below.
"Why did you decide to join the Novasyte team?"
I'm still fairly new to San Diego and wanted to pivot my career into the healthcare industry. A good friend of mine worked at Novasyte Health for years and loved it! She referred me and from the moment I stepped into the office for my interview, I knew I was in the right place.
"What do you hope to contribute to our growing organization?"
I hope to continue working on strategic initiatives and innovative solutions. One of my favorite aspects of previous positions included strategies for more effective and fun team building activities. I would love to apply that experience to the already amazing Novasyte Health culture!
"Where are you from originally?"
San Francisco born and raised!
"Who inspires you?"
My father is my biggest inspiration. He went completely blind at five years old and it has never held him back. He wrestled all throughout his youth, attended Harvard Law school, was a champion downhill skier, etc. I could go on and on! I strive to match his drive, determination, humor and zest for life every day.
"Where is your favorite place in the world?"
This is a tough one. I took a six-month hiatus from college to do a solo backpacking trip through Europe and Asia so it's hard to narrow it down to just one place! I think I'm going to have to go with anywhere in Italy and Thailand to visit. But if I can be corny for a moment, my little beach house in Oceanside is truly my favorite place in the world to live. I have so many incredible memories there with my fiance and my daughter - including getting engaged in our living room!
"What was the best concert you have ever attended?"
The best concert I've attended would have to Allan Rayman. He's not very well known but he's my favorite artist. Before he was a headliner, I flew to Colorado to see him open at Red Rocks and it was totally worth it!
"What is a fun fact about you?"
I was a nationally ranked wrestler in high school and the captain of the boy's wrestling team.
--
We're hiring! Interested in joining our team? Apply for one of our available positions today!
-------------------------