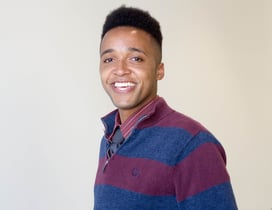 Novasyte is proud to welcome its newest member of the corporate team, Craig Spiller, who officially started in his role of Healthcare Recruiter on Monday, February 26th.
Learn more about Craig with his Q&A session below.
"Why did you decide to join the Novasyte team?"
I decided to join the Novasyte team because I wanted to work for a company that wouldn't confine me to a single role with a narrow scope of responsibility. Between that and the company culture I was sold almost instantly. It doesn't hurt that it's in such a unique field either!
"Where were you working prior to Novasyte?"
Prior to Novasyte I graduated from the University of Virginia in 2017, and spent the majority of that time working as a leasing consultant for a luxury apartment community. Since then I had been applying to jobs and working part-time until I found a permanent home here at Novasyte.
"What do you hope to be able to contribute to our growing organization?"
I'm really hoping to add a bright and fun personality to what seems like an already vibrant group at Novasyte. I'm looking to come in and establish consistent success, and show that I'm what Novasyte is all about.
"Where are you from originally?"
I grew up just down the road in Encinitas, CA. I have lived there all of my life outside of college.
"Who inspires you?"
I am inspired by the people I'm surrounded by. My friends, family, and coworkers all give me the energy to keep putting my best foot forward.
"Where is your favorite place in the world?"
My favorite place in the world is either Charlottesville, VA or New Orleans, LA. Charlottesville because it's my home away from home, and it really embodies a small town feel that makes me so relaxed. New Orleans was one of the most alive cities I've ever visited. Art and jazz around every corner, and most importantly more food options than one could ever need.
"What was the best concert you have ever attended?"
I haven't been to a whole lot of concerts, but the one that stands out was the Chainsmokers a few years ago. It was at a smaller venue too, so it really elevated the whole experience.
"What is a fun fact about you?"
I was in an issue of Oprah magazine as a child.
-------------------------
Learn more about Craig on LinkedIn.