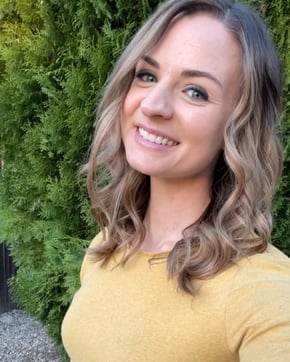 Novasyte Health, an IQVIA™ company, is proud to welcome its newest member of the corporate team, Corinne Scott, who officially started her role as Healthcare Recruiter in February 2022.
Learn more about Corinne with her Q&A session below.
"Why did you decide to join the Novasyte team?"
My brother, Brandon Scott, introduced me to the company. I loved the company culture and the opportunity to help make positive patient outcomes in an indirect but unique way.
"What do you hope to contribute to our growing organization?"
I love people and developing relationships, so I'm hoping that my interpersonal communication skills will be helpful in recruiting valued team members.
"Where are you from originally?"
I'm from Yucaipa, California and have lived in this area most of my life.
"Who inspires you?"
My two sons, Maxton and Connor, are my "why." I call them my "sunshine boys." I love being a mom and want to give them the best future possible. Right now, our favorite things to do are riding bikes, playing catch and building Legos.
"Where is your favorite place in the world?"
I have a few! I grew up camping in Zion National Park every summer so I have fond memories with my grandparents there. I also love Yosemite, Catalina Island and Kauai; anything outside!
"What was the best concert you have ever attended?"
I saw John Mayer over the weekend, but I'd have to say Blink-182 is at the top.
"What is a fun fact about you?"
I can play the piano and ukulele. I'm currently teaching myself how to play guitar and how to mix music. I also write songs and sing at local open mic nights.
--
We are hiring! Apply today to join the Novasyte Health team.
-------------------------