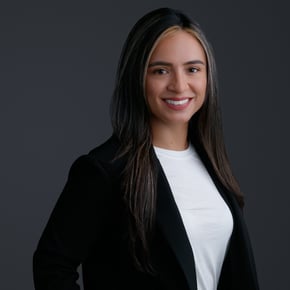 Novasyte Health, an IQVIA™ company, is proud to welcome its newest member of the corporate team, Claudia Metaute, who officially started her role as Account Executive in January 2022.
Learn more about Claudia with her Q&A session below.
"Why did you decide to join the Novasyte team?"
Novasyte's history, culture, innovation and its ability to be a top-tier disrupter in the healthcare space really appealed to me.
"What do you hope to contribute to our growing organization?"
My progressive thinking and ability to develop solutions and clear obstacles is a top trait. I also believe my cultural background will lend itself well to the company by providing a difference in perspective and perception.
"Where are you from originally?"
I am originally from Medellin, Colombia.
"Who inspires you?"
My family inspires me. We're a tight-knit team who are supporting, loving and up lifting to one another.
"Where is your favorite place in the world?"
Anywhere I can find mountains is my sanctuary. Yosemite is one of my favorite places to be.
"What was the best concert you have ever attended?"
Guns and Roses; they are one of my favorite bands of all times.
"What is a fun fact about you?"
As I mentioned before, I love the mountains but being able to live near the ocean is magical. I'm a sunset chaser. I love nature in every presentation.
--
Looking for a new career? Join the Novasyte Health team today.
-------------------------