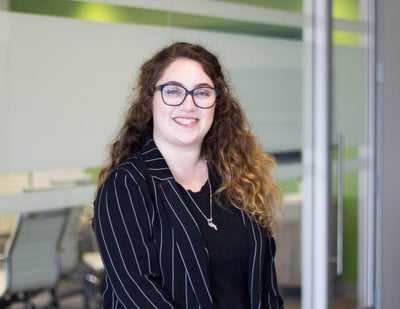 Novasyte is proud to welcome its newest member of the corporate team, Annalisa Cracchiolo, who officially started her role as Vendor Credentialing Specialist in late February 2019.
Learn more about Annalisa with her Q&A session below.
"Why did you decide to join the Novasyte team?"
I decided to join the Novasyte team because of the company culture and how genuine everyone is here. When I had my first interview and tour of the office, I felt at "home" and welcome.
"Before starting at Novasyte, where did you work?"
I was working as a Marketing Student Assistant at CSUSM department - Extended Learning.
"What do you hope to contribute to our growing organization?"
I look forward to taking the credentialing responsibilities off my teammates' shoulders, allowing them to focus on their roles.
"Where are you from originally?"
Los Angeles area
"Who inspires you?"
My grandmother inspires me because throughout her life, she has had many obstacles to go through and she continues to overcome them with a happy heart and a big smile on her face.
"Where is your favorite place in the world?"
Ischia, Italy (an island off of Naples - near Capri)
"What was the best concert you have ever attended?"
Go Fest with Lady Antebellum, Sam Hunt and Hunter Hayes
"What is a fun fact about you?"
A fun fact about me is that I have a Disneyland pass!
-------------------------