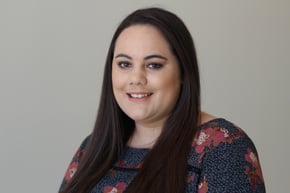 Novasyte is proud to welcome its newest member of the corporate team, Alexis Diaz, who officially started in her role of Payroll Specialist on Monday, October 23.
Learn more about Alexis with her Q&A session below.
"Why did you decide to join the Novasyte team?"
I decided to join the Novasyte team because it's exciting to see the success of the company and how quickly it is growing.
"Where were you working prior to Novasyte?"
Prior to working at Novasyte, I was working at DirecTV / AT&T as an administrative support assistant. I was responsible for payroll, expense submittals, updating workers compensation and disability claims, filing FMLA, and maintaining employee files.
"What do you hope to be able to contribute to our growing organization?"
I'm hoping to bring some of my past payroll successes to Novasyte to help our company continue to grow.
"Where are you from originally?"
I'm from California and have lived all over southern California.
"Who inspires you?"
Ellen DeGeneres inspires me to be a better person everyday and to be kind to one another.
"Where is your favorite place in the world?"
My favorite place in the world is Disneyland! I LOVE everything Disney!
"What was the best concert you have ever attended?"
The best concert I ever attended was One Direction.
"What is a fun fact about you?"
I was a studio audience member on "The Price is Right" show and sat in the front row.
-------------------------
Learn more about Alexis on LinkedIn.