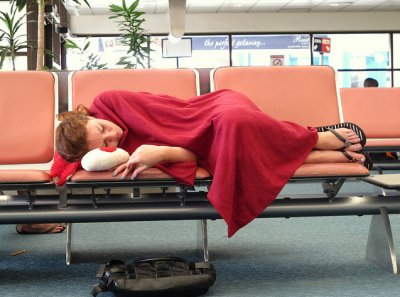 Travel and sleep go hand in hand. Or at least you hope they do if you want to have a productive business trip.
Business travel isn't always easy or stress-free. Late nights, running through terminals, and shifting your internal clock can be a bad recipe for sleep.
As we get older, sleep while traveling becomes increasingly important and more of a priority. Furthermore, projecting a level of alertness and awareness for your meeting in a few hours is critical to your job's success. According to webmd, "Excessive daytime sleepiness impairs memory and the ability to think and process information."
Check out our best practices to help you get the best rest on your next business trip!
1. Avoid red-eye flights
A red-eye flight might sound like a smart idea because they usually are less expensive and less crowded. That said, it's advised to avoid them as it can disturb your sleep for most of your trip. Unless traveling on a cross-continental journey, most domestic US flights do not allow sufficient time for the traveler to get sleep as the air flight time is a small portion of your travels. And, if you're like me, it can be incredibly difficult to get to sleep on a plane, nevertheless stay asleep. Ultimately, red-eye flights are not recommended when you have important meetings in the morning or do not have the ability for a nap the following morning to recover some of your energy.
2. Stay hydrated
We all were told growing up how important it is to drink water and stay hydrated. This is especially true when it comes to travel. It's recommended that all travelers increase their fluid intake 24-48 hours before a departing flight. This is suggested because in high altitudes your body and skin are more likely to get dehydrated. An easy way to get proper hydration on a flight is by bringing a large, reusable water bottle to fill up before you board.
3. Eat Right
What we consume influences how we feel during a flight. Try to avoid eating heavy meals immediately prior to a flight. Eating heavily can disturb your sleep patterns because your body will be attempting to digest your food. Instead of eating a heavy meal before a long flight, eat a light meal and pack snacks in your carry-on bag.
4. Sleeping Aids
Some travelers tend to gravitate to sleeping aids - whether it is to doze off on the plane, adjust to a different time zone, or get better rest in an unfamiliar place. Natural hormones, such as Melatonin, helps promote sleep by creating a nighttime response in the body, indicating it's dark outside which encourages sleep. It is advised by One Medical, that travelers take the supplement one hour before you plan on resting. Another helpful sleeping aid for traveling is Chamomile Tea. The Molecular Medicine Journal notes: "Chamomile is widely regarded as a mild tranquilizer and sleep-inducer." It is recommended to drink a cup of this tea 30 minutes before your desired bedtime.
5. Sleeping Apps
Have you explored different apps to help you sleep? We've shared some of our favorites below - all available on the App Store and Google Play.
1. Pzizz
If the name doesn't say it all, this apps is perfect for those looking for a deep sleep or power nap. Pzizz has different options to help you "fall asleep, stay asleep, and wake up feeling refreshed." The mix of sleepy time sound effects, music, and voice-overs relaxes your mind and brings you into a deep sleep for the recommended amount of time to be rejuvenated in the morning.
Available for download on: App Store and Google Play
2. Recolor
Unable to fall asleep and looking for something to do that supports relaxation both physically and mentally? Bring out your inner artist on the flight or in your hotel room. Recolor is an adult coloring book in a app form, organized into themed categories of illustrations ranging from beginner to expert. This app, provides more than 1,000 different images to help you unwind and relax your mind and body into a state of tranquility.
Available for download on: App Store and Google Play
3. Relax Melodies
Say goodbye to your insomnia and jet lag. Relax Melodies is made to not only help you, but all of the other 35 million users that use this app. As one of the most popular sleeping apps on the market today, this app is design to help you relax as you listen to the sounds of nature and combined melodies. Want it personalized? You have the ability to personalize your playlists and share it with others!
Available for download on: App Store and Google Play
We hope you have enjoyed exploring our five best sleeping tips and tricks when it comes to business travel.
Interested in learning more about how our traveling Novasyte Health Consultants support our MedTech client partners? Explore some of our programs here or click on the careers section above to see current position openings.