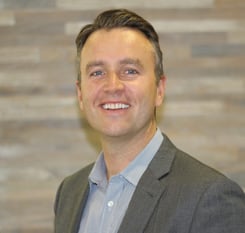 Novasyte is elated to announce that Tim Gleeson, Chairman and CEO, has been named a finalist for the San Diego Business Journal's Most Admired CEO 2018 award.
Tim has been placed on an exclusive shortlist of San Diego-based CEOs who show exceptional leadership in their work and hold admiration from their respective teams.
As a co-founder of Novasyte since 2008, Tim has fostered the company into a high-growth business with huge successes in innovative services that address unmet industry, client and patient needs. Despite the fast trajectory of growth, Tim has intentionally maintained a strong culture of quality, collaboration and feedback.
Here are some sentiments from Novasyte employees regarding Tim's nomination:
"One quality I most admire about Tim is the trust he has in his employees. He empowers employees to carry out the mission of the Company and, when appropriate, provides valuable feedback allowing for growth and development

–

turning jobs into careers." – Neil Thomas, Chief Financial Officer
"Tim is the spark that has lit the Novasyte culture on fire, and he provides us with great guidance and counsel to keep that going on the right track. He is an empowering leader who has brought great success to our company."

–

Andrew Fowble, Account Manager
"Tim is the type of leader that inspires you to be your best. He places huge importance on fostering a culture of innovation, healthy competition, integrity and fun."

–

Chelsea Platt,

Senior HR Generalist
"His commitment, drive and enthusiasm to consistently innovate and change the business landscape for the better are contagious and inspiring. He has the ability to connect with employees at all levels and all locations of the business, pull out their expertise and continually push the envelope."

–

Lisa Rood, Director of Human Resources
"He consistently focuses on quality and achieves high quality standards in all that he does by continually improving and innovating. He makes sure that he always keeps his sight, mind, and heart on the needs and satisfaction of our customers."

–

Marissa Murphy, Administrative Assistant
"Tim has always focused his efforts on maintaining and improving Novasyte's culture. From investing in culture-building events to giving recognition to anyone who deserves it and keeping an open-door policy, he has continually inspired an honest, collaborative and enjoyable culture that all employees can thrive in."

–

Jordan Fraser, Senior Financial Analyst
As a finalist, Tim will attend the Special Awards Reception hosted by the SDBJ for the award announcement. The event will be held on Thursday, June 7, 2018 at the Hyatt Regency La Jolla.