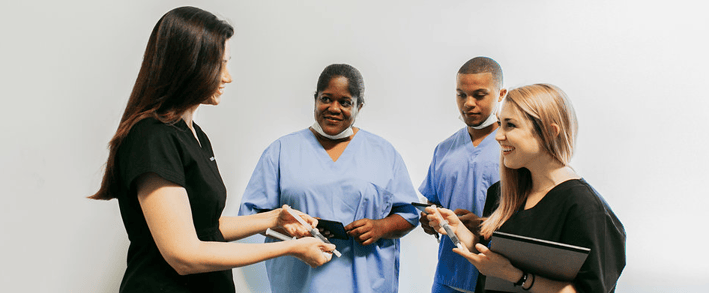 As a partner to many of the largest, global medtech companies for more than a decade, Novasyte has gained a strong understanding of the evolving healthcare landscape and trends in nurse staffing. With the consistent rotation of nurses in hospital systems, manufacturers are adapting to the staffing changes and optimizing their education methods to ensure successful medical device conversions.
Key Industry Trends
A 2017 study by Leaders for Today revealed that 23 percent of staff nurses have been with their current hospital for fewer than two years and nearly one-third plan to leave within the next two years. Additionally, 32 percent of staff nurses plan to retire within the next ten years.
With the high rate of hospital turnover, the product-knowledge gap continues to widen. This is forcing manufacturers to find creative ways to reach and provide education to all of their products' end users in an ever-changing workforce.
Today, manufacturers are increasingly focused on identifying and providing a group of "super-users" within a facility more dedicated training, in turn allowing them to educate new employees via the train-the-trainer method. For long-term or non-acute care facilities, online training is also at times provided to aid in long-term education.
To further understand how this trend, and others, affect manufacturers' strategies, Novasyte conducted a survey that reflects the opinions of 40 business leaders who manage conversions for both hardware and disposable products in 14 of the largest, global medical device and diagnostic organizations. The participants, all Novasyte client partners, represent a cross-section of 32 divisions. To learn what the top medtech teams include in their conversion strategy, download our Conversion Excellence white paper.