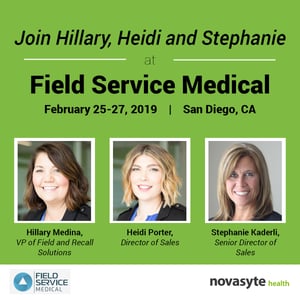 Novasyte is a Sponsor of this year's Field Service Medical, the Medical Device Service Conference, happening in San Diego, CA from Monday, February 25 through Wednesday, February 27. The conference is for MedTech leaders focused in customer success, service and support.
A few of our team members will be at the show, including including Hillary Medina, our Vice President of Field and Recall Solutions, Heidi Porter, our Director of Sales - Northwest, and Stephanie Kaderli, our Director of Sales - Southwest.
With more interactive formats than ever before, Field Service Medical will offer attendees opportunities to learn from and network with industry leaders. Some of the insights leaders will share during the show include:
How to meet customer needs and expectations,
Expedite customer onboarding to drive revenue generation, and
Improve the customer journey from field service request to completion, without changing (or hurting) the business.
"Increasing customer demands coupled with reduced budgets, higher targets and new technologies are requiring organizations to think differently and pivot seamlessly, all while balancing risk," said Hillary Medina, Novasyte VP of Field and Recall Solutions. "Our team is thrilled to take part in the discussions that will help us to take on the challenges the MedTech industry is facing regarding field services for our customers."
To schedule time with our team members attending the event, find their email addresses below: