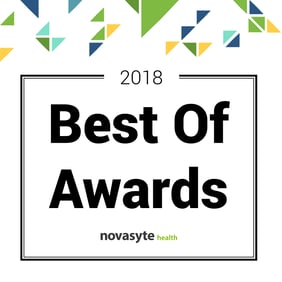 Happy New Year!
As we kick off 2019, we are very excited to announce we have a newly branded employee recognition program -- The Best Of Awards! Previously named "Consultant of the Week," we have added value and depth to the nomination process to recognize our top performers.
We also changed the weekly, quarterly and annual award titles, outlined below more in detail:
Spotlight Award

- Weekly award that goes to a consultant who is a top performer in the following key areas. Each weekly winner gets his or her name in the quarterly Impact Player award drawing!

1. Ensuring timely submission of time cards and expenses

2. Representing our core values and cultural beliefs

3. Maintaining professionalism in all communication

4. Receiving positive client feedback

Impact Player - Quarterly award that is selected by random draw on our Facebook LIVE and featured in each quarterly newsletter. Impact Players win an all-expenses-paid trip to visit our Carlsbad, California office for our Best Of Awards Event that takes place every March! This includes flights, the hotel stay, a spa treatment and a special evening celebrating their accomplishments with the Novasyte team.

Pinnacle Award - Annual award that is selected during the "Best Of 2018" awards event. Those who were awarded the quarterly awards from 2018 will be coming to our office this March 2019 to celebrate during our "Best Of 2018" event. One of the four Impact Players is selected by our Senior Leadership Team based on overall performance, customer focus and dedication.
You will soon see our Spotlight Award winners on our social media platforms -- Facebook, Instagram, and LinkedIn. Be sure to follow us today!
As you likely now know, we are very excited to congratulate our top performers in a new fashion.
If you have any questions, please reach out directly to hr@novasyte.com.