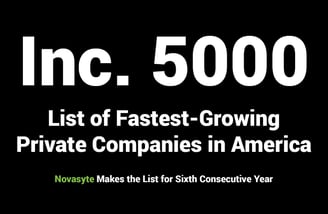 Novasyte is honored to announce that we ranked 1,692 overall and 125 in the healthcare category on the 2018 Inc. 5000 List of Fastest-Growing Private Companies in America. This marks the sixth consecutive year achieving this recognition, putting us on an exclusive short list of only six percent of companies acknowledged for maintaining this level of continued growth over the years, including Microsoft, Timberland, Vizio, Intuit, Chobani, Oracle and Zappos.com.
Of the nearly seven million private companies in the U.S., this repeated growth is unparalleled in today's economy. It reflects Novasyte's sustained growth over the last three years. This has contributed to a significantly expanded corporate and field team providing tech-enabled outsourcing services to many of the largest device, diagnostic and drug manufacturers in the market today.
Additionally, 2018 marks another increase in rank for Novasyte, climbing to 1,692 in 2018 from 2,428 in 2017 and 3,591 in 2016.
"This achievement is humbling and exciting," said Tim Gleeson, Novasyte CEO and Chairman of the Board. "While this certainly reflects our consistent high growth, it speaks more to the hard work that our team continues to put in day-after-day. Special thanks to our incredible client partners and dedicated employees — both in the field and in our home office — as we wouldn't be able to celebrate this achievement without them."
Each year Inc. determines America's most successful and rapidly growing organizations to be recognized on the list. Businesses are ranked by revenue growth and must be privately owned, based in the United States, for profit and independent.
The 37th Annual Inc. 5000 Conference and Gala will be held in San Antonio on October 17-19, 2018 at the JW Marriott Resort & Spa.
Click here to check out current happenings at Novasyte.