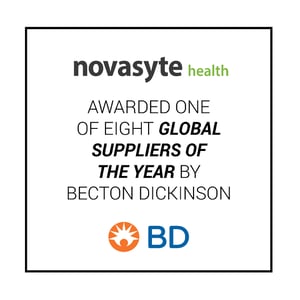 Novasyte Health is excited to announce that we have been named one of eight Suppliers of the Year by Becton Dickinson (BD) at the annual Supplier Recognition Awards that took place on March 12, 2019. This marks an important milestone in our long-standing partnership with BD.
"We are thrilled to receive the honor from BD and look forward to the efforts we will both make toward our mission of improving the lives of patients," said Novasyte CEO and Chairman, Tim Gleeson.
In 2010, BD created the Supplier Recognition Program. This program honors suppliers, like Novasyte, that have made significant contributions to advancing or supporting BD initiatives, products, processes and customer satisfaction. Each year, BD selects an evaluation team to award suppliers in several categories, including: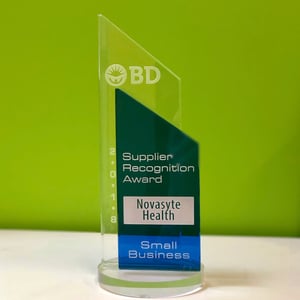 Product Innovation
Process Innovation
Efficiency
Small Business
Sustainability
Risk Mitigation
Supply Chain Excellence
Partnership
As the tech-enabled, outsourcing leader for medical device and diagnostic manufacturers, Novasyte was evaluated based on a vendor's contribution to continuous improvement, quality and service, innovation and efficiency. Novasyte is proud to be the only U.S.-based organization selected among this year's winners.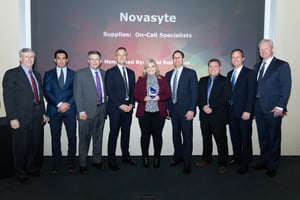 About BD
BD is one of the largest global medical technology companies in the world and is advancing the world of health by improving medical discovery, diagnostics and the delivery of care. The company supports the heroes on the frontlines of healthcare by developing innovative technology, services and solutions that help advance both clinical therapy for patients and clinical process for healthcare providers. BD and its 65,000 employees have a passion and commitment to help enhance the safety and efficiency of clinicians' care delivery process, enable laboratory scientists to accurately detect disease and advance researchers' capabilities to develop the next generation of diagnostics and therapeutics. BD has a presence in virtually every country and partners with organizations around the world to address some of the most challenging global health issues. By working in close collaboration with customers, BD can help enhance outcomes, lower costs, increase efficiencies, improve safety and expand access to healthcare. In 2017, BD welcomed C. R. Bard and its products into the BD family. For more information on BD, please visit bd.com.­
About Novasyte
Novasyte partners with medical device and diagnostic manufacturers, offering tech-enabled, outsourced commercial service teams and technologies. Our flexible model enables us to build, deploy and manage teams that expand and contract to meet our clients' customer-facing needs. Program success is tracked and measured with our real-time business intelligence analytics that provide our clients with critical insights into their most important resources — their people and their customers. For more information on Novasyte, please visit novasyte.com.