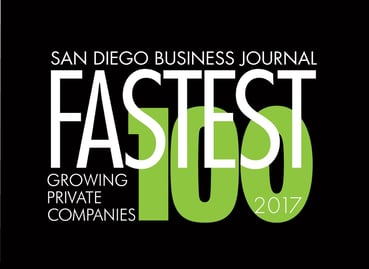 We are excited to announce that Novasyte ranked 56th on the San Diego Business Journal's Fastest Growing Private Companies list for 2017.
Assessed on an annual basis, the San Diego Business Journal uncovers our region's most successful and rapidly expanding organizations to be included on the list.
"We couldn't be more humbled to be recognized alongside the other local companies on the list, " said Tim Gleeson, Novasyte CEO. "This reflects to our exciting growth and the hard work and dedication put forth by our employees and the drive to always deliver the highest-quality services to our clients."
Novasyte is recognized for sustaining an exponential growth rate over the past three years – resulting in a rapidly expanding corporate and field teams supporting more than 50 percent of the Top 25 global med-tech companies.
On July 13, 2017, they will be hosting an exclusive, invitation-only reception and award ceremony to honor the winners and guests.
To learn more about Novasyte, visit our website here: