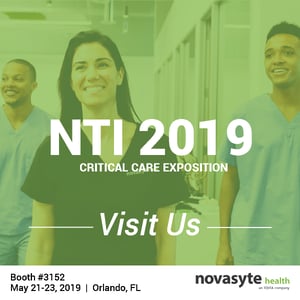 Novasyte Health, an IQVIA™ company, is excited to share that we are an Exhibitor at NTI 2019. The exposition is happening in Orlando, Florida from Tuesday, May 21 through Thursday, May 23.
The National Teaching Institute and Critical Care Exposition, hosted this year at the Orange County Convention Center, is the largest, most comprehensive trade show for high acuity and critical care nurses.
Our Sales Team will be in attendance at our booth (#3152), which is located near Cardinal Health and GE Healthcare.
"Our team is excited to attend NTI and meet with industry professionals to discuss the latest research and best practices in the high acuity and critical care nursing field," mentioned Todd Schaefer, Novasyte Heath's SVP of Sales and Marketing.
To meet with our team members attending the event, schedule a time with us.
Additionally, Novasyte Health will be hosting a Client Appreciation Event on Tuesday, May 21 at David's Club Bar & Grill inside the Hilton Orlando Hotel from 4:30pm to 6:30pm EDT. If you are interested in attending the event, click here to RSVP.