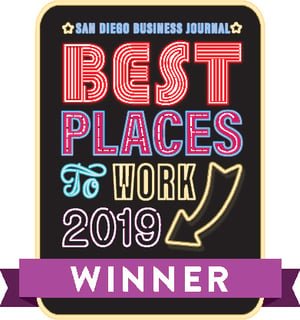 Novasyte Health, an IQVIA™ company, is proud to announce that we have been named one of San Diego Business Journal's (SDBJ) 2019 Best Places to Work.

"We are honored to receive this recognition from San Diego Business Journal," said Tim Gleeson, vice president and general manager at Novasyte Health, an IQVIA™ company. "At Novasyte, we pride ourselves on the caliber of our people, core values, culture, and our ability to provide superior services for our clients."


The SDBJ Best Places to Work Awards program recognizes outstanding companies with some of the best benefits, policies and practices in the San Diego region. Companies recognized show their commitment to improve performance by challenging their employees in a fun and engaging work environment.

Companies that made the list this year were recently honored at an awards ceremony. A special issue of the SDBJ profiling the winners will be published on October 7, 2019.

Why is Novasyte Health rated as one of the best places to work in the San Diego area?
The original founders of Novasyte Health, Tim Gleeson and Joe Andrew, are still leading the charge today.
As a part of our NovaCulture, we host weekly BYOM (Bring Your Own Mat) yoga classes on Fridays during lunch.
Colleagues take part in community service events throughout the year.
We host annual holiday celebrations and a Nova Awards ceremony.
Our corporate office is filled with music every day (each day is a different theme).
Every day is "Bring your dog to work" day at our corporate office.
We have a ping pong table for our team to use during lunch and breaks for some friendly competition.
We have bikes on-site and are in proximity to the beautiful Carlsbad State Beach.
Be sure to follow us on Instagram for our latest updates and to learn more about our team.
Interested in joining the Novasyte Health team? Check out our latest job openings and apply today.