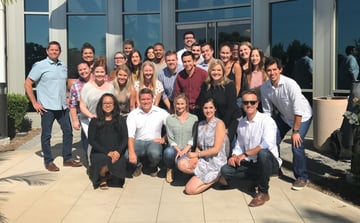 Novasyte recently earned the recognition of 'Best Places to Work' for 2017 by the San Diego Business Journal.
Recognizing organizations regionally for their commitment to employee satisfaction and a culture of openness and engagement, the research study is completed by an independent research firm specializing in identifying and recognizing great places to work.
"We couldn't be more thrilled to have earned this recognition," said Tim Gleeson, Novasyte CEO. "Beyond delivering quality value to our clients, we want nothing more than to have a team that challenges, supports and trusts one another. This speaks to our culture and with a business specializing in people and technology, we are excited to hear our employees are enjoying their journey on the Novasyte team."
The assessment is a two-part process designed to gather detailed data about each participating company. In part one, the employer completes the Employer Questionnaire. In part two, full-time employees complete a satisfaction survey, as they desire.
100 percent of Novasyte employees participated in the study.