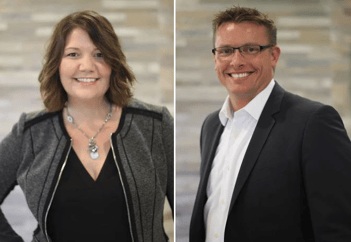 Novasyte has announced the creation and appointment of two corporate positions. Ryan Jones, formerly VP of Sales, now holds the title of VP of Pharma Services and Hillary Medina, formerly Senior Director of Recall Services, now acts as VP of Field and Recall Services. Both positions were effective on Monday, April 9, 2018.
Hillary's expanded role is in response to the growth of Novasyte's field action services, including the S.M.A.R.T. Program and new application, Novasyte TRAK. "I am thrilled to announce these new roles, as they are derivatives of our past successes and are fueling further growth," said Tim Gleeson, CEO. "Hillary has been a pillar of the Novasyte family for more than eight years and has done a fantastic job in strategically developing the S.M.A.R.T. Program offering. We expect and look forward to her continued success in this new role."
As Novasyte continues to expand into the outsourced pharmaceutical services market, Ryan Jones will lead the national sales initiative. "Ryan has supported Novasyte in both independent sales and leadership functions," said Tim. "With his drive for excellence, we are confident Ryan will succeed in leading Novasyte into this new market." With more than 10 years of strategic business development management, Ryan has held the positions of Senior Director of Business Development and VP of Sales with Novasyte. He will be based in Dallas, Texas.
An official press release can be read here.