Today Novasyte announced Dan Cary, RT, as the 2016 Consultant of the Year. This acknowledgment is given to those consultants who continually strive to achieve the highest level of customer service to Novasyte's med-tech clients.
The Consultant of the Year award marks the highest form of recognition for consultants' achievements in the field. Voted on by the internal Novasyte team, Dan was selected from four high-performing consultants nominated Consultant of the Quarter, who were in-turn recognized among the 52 individuals awarded Consultant of the Week. Client feedback, number of hours worked, expense management performance, and tenure with Novasyte are the key contributing factors evaluated when awarding Consultant of the Week.
"I was genuinely surprised," said winner, Dan Cary. "It was absolutely the last thing I expected. The other Consultants of the Quarter were such strong contributors, and as a respiratory therapist, I was certain an RN would win. I just feel very grateful and hope my appreciation comes across."
The Consultant of the Year event at the home office brought together all four winners of Consultant of the Quarter, including: Diana Wojnowski, Connie Johnson, Dana McReynolds and Dan Cary.
2016 Consultant of the Year Event from Novasyte on Vimeo.
"Dan is one of our consultants who continually goes above and beyond," said Tim Gleeson, Novasyte CEO. "We're grateful to have an opportunity to recognize these four consultants who work so hard for us in the field. I only wish we could personally thank all of our other consultants who are also working diligently to make a difference with their product education, in-servicing, upgrade and recall support."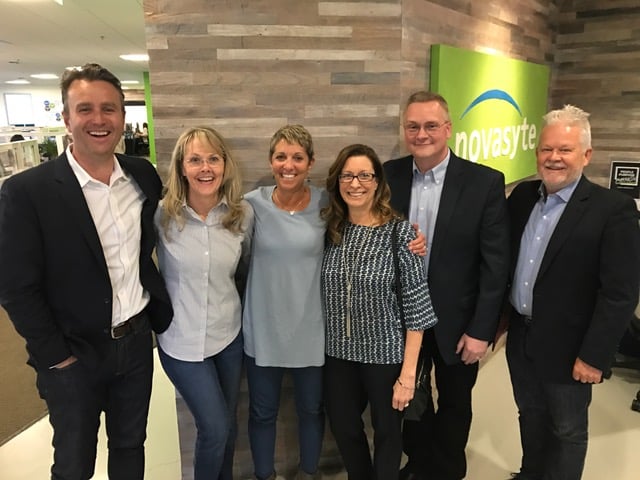 From left to right: Tim Gleeson, Diana Wojnowski, Dana McReynolds, Connie Johnson, Dan Cary, and Novasyte Board Chairman, Pete Gleeson.
For more information on the Consultant of the Year event, contact hr@novasyte.com