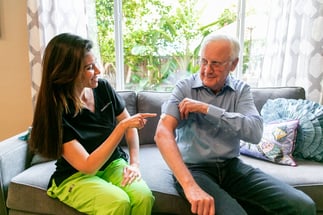 For patients with diabetes, the challenge of managing their therapy can be alleviated with proper, quality education. For more than a decade, Novasyte has partnered with many of the largest, global medical device, diagnostic, and pharmaceutical organizations, providing specialized education with the highest-quality certified product trainers.
Manufacturers currently operating under a 1099 hiring structure or working with a third-party provider with teams of 1099 independent contractors are highly encouraged to reassess these work arrangements. With the associated risk of hiring 1099 contractors and with the recent legislative changes making it increasingly difficult to do so, it is more imperative than ever to ensure per diem teams are properly classified and trained.
"We have seen, in working with our client partners, that there is typically a significant lack of oversight and data associated with a 1099 program," said Tim Gleeson, Novasyte CEO. "Manufacturers' sales reps and customer service agents oftentimes send text messages to the product trainers, arranging appointments with the patient. The risk involved is paramount, as nothing is tracked or reviewed. In addition to our highest quality, W-2 clinical educator teams, we leverage Novasyte LYNC, our custom reporting dashboards, to provide complete oversight on the engagement from start to finish."
Novasyte takes great pride in the long-standing decision to only employ field-based, per diem consultants on a W-2 basis. When taking on clients with a 1099 working arrangement, we rollover each employee to the Novasyte team, where they operate on a W-2 basis. This mitigates potential legal and human resources risks with employee misclassification. Choosing a partner organization like Novasyte who builds teams of only W-2 employees to support your contract clinical needs on a flexible, per diem basis will significantly reduce the potential for penalty, brand degradation and legal risk.
Our Director of Business Development, Jeff Swetland, is attending the American Associate of Diabetes Educators' (AADE) annual conference today, August 17, in Baltimore, MD. If you are interested in

learning more about the benefits of hiring per diem consultants on a W-2 basis, please connect with Jeff via email (jswetland@novasyte.com) or phone (856.834.8229).
More information on Novasyte's Contract Clinical Program can be found here.