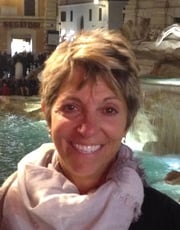 We are always interested in the experiences our hard-working consultants have throughout the US and Canada. This month, Dana McReynolds' story, in particular, moved us and was a pleasure to read.
Thank you to everyone who took the time to submit their stories, and congratulations to our Consultant Story Spotlight winner, Dana McReynolds.
Dana celebrated her two-year anniversary with Novasyte this past November. A consultant who continually receives praise for her work in the field, Dana shared that this story has been the most emotional and impactful since joining the Novasyte team. Learn more about her moving experience below.
"I was doing education with the night shift at a VA Hospital in Albuquerque when the night house supervisor asked me if I wanted to participate in the Honor Guard," Dana recalls.
"I didn't know what that was so she explained that when a veteran dies, the staff lines up along the hall of the hospital as they wheel the body to the morgue. The veteran who had died was a 94-year-old who had served in WWII and Korea. The body was draped in an American flag that is used to cover every veteran who has died in this hospital. Staff stood on both sides of the hall and those who had served saluted as the body went by. Then the soldier was escorted in the elevator and there was staff lined up along the hall on the way to the morgue as well. It was an incredibly moving experience and a beautiful way to pay tribute to someone who served his country and lived a long and full life. This soldier had died on his 94th birthday so the family sang Happy Birthday before they took him downstairs. There wasn't a dry eye in the place."
Thank you for sharing your amazing story with us, Dana.
If you are interested in submitting an inspiring Novasyte story, you can share it via the button below. Winners will receive a thank you gift card.