Being fueled up and feeling your best isn't always easy when you're traveling for work. This can be increasingly difficult if your trip was scheduled last-minute, you have a back-to-back schedule, are working long shifts, or if you're in cities you're unfamiliar with.
Check out our best practices for eating healthy while watching your waist line and exploring a new city's food scene!
1. Pack Healthy Snacks
Pre-packing your food for a trip or flight may sound like an odd thing to do, especially when you don't have a lot of extra space. By keeping some of the following items in your bag, you will be able to more confidently resist the unhealthy, fast-food options available at the airport or your destination city.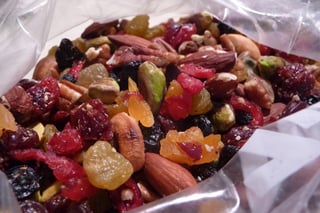 Fresh Fruit: Apple, Clementine, Tangerine, Orange.
Bars: Granola Bars, Protein Bars, Nut Bars, Fruit Bars.
Dried Fruit: Apricots, Mango Slices, Pineapple Slices.
Popcorn: Bring extra bags in case the hotel has a microwave.
Apple Sauce Squeezes: Explore Trader Joe's broad selection of different flavors.
Dry Oatmeal: Add hot water after security or in your hotel room.
Kale or Seaweed Chip: Try these snacks if you are craving something salty.
Trail Mix: Combine your granola, dried fruit, nuts, and chocolate.
Nuts: Almonds, Cashews, Pistachios, Pecans, Peanuts.
2. Bring Travel-Friendly Accessories
When you're traveling with your carry-on, you don't have a lot of extra room. Here are a few key accessories to consider packing before you head out on your next work adventure.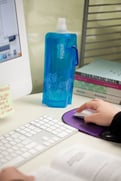 Foldable Water Bottle: Bring travel-friendly accessories such as a reusable water bottle. You will need to dump out your water bottle before going through security, but you can easy re-fill next to your gate to bring on your flight.
Hand Sanitizers: It is a good idea to take wipes or sanitizing spray with you to clean your hands before you eat to avoid getting ill on your trip.
Travel-Size, All-Purpose Soap: One thing that can be handy is bringing a travel-size Dr. Bronner's Soap to clean your containers and utensils. This multi-purpose soap can also be used for washing your laundry, body wash, shampoo, and shaving.
Vitamins: Feel free to pack vitamins, supplements or probiotics you might need when traveling. It is always nice to bring your own tea bags or instant coffee if you need a pick-me-up drink.
3. Download the Best Apps for Food Delivery
At the end of a long day, there are times when you want to go back to the hotel and kick up your feet. At the same time, you want to explore the culinary side of the city. Instead of dialing in an order, check out these top five delivery service apps in the US. They make ordering your food fast and efficient.

Availability: Currently available in more than 600 U.S. cities.
Fee: There's no fee to use the app, but there are often order minimums. Download the IOS App
Availability: Currently available in Atlanta, Seattle, Boston, Brooklyn, Charlotte, Chicago, and a few other cities across the US.
Fee: The fee varies by restaurant. The price typically includes the cost of your meal, as well as tax, delivery fees, and an optional tip. Some restaurants charge additional service fees. Download the IOS App
Availability: Currently available in Los Angeles, Atlanta, New York City, Seattle, Amsterdam, Austin, Canada, and other cities throughout the globe.
Important Note: The delivery service will arrive to your hotel lobby.
Fee: UberEats charges a $5 delivery fee. Download the IOS App
Availability: Currently available in more than 90 U.S. cities.
Fee: There's a nine-percent delivery charge added to every order, in addition to a delivery fee starting at $5. Postmates also offers a "Plus Unlimited" service for $10 a month, which lands you free delivery from certain stores and restaurants on orders more than $25. Download the IOS App
Availability: Currently available in more than 1,500 U.S. cities.
Fee: The app is free to use, but restaurants may charge a delivery fee and have an order minimum. Download the IOS App
4. Know Your Healthy Food Options at the Airport


It can be a pain running around the airport trying to find healthy food options. Check out our top picks for healthiest food choices in some of the most trafficked US airports.
Fresh Healthy Cafe - If you are looking for veggie, non GMO, gluten free, or vegan options, this cafe has it all. Healthy food options, include: Wraps, Paninis, Protein Bowls, Salads, Juices, Smoothies, Power Bowls and Soups.
Location - Terminal C Gate C 45
Hours of Operation - Open 24 Hours
Yia Yia Mary's - This healthy Greek restaurant has a great variety of menus including dinner, to- go, and lunch.
Location - Near Gate 1
Hours of Operation -

Mon-Thurs 11:00 AM - 10:00 PM

Fri- Sat 11:00 AM - 11:00 PM

Sun 11:00 AM - 9:00 PM
Pappadeaux Seafood Kitchen - This Seafood Kitchen is a health food favorite at DFW Airport.
Location - Terminal A Gate 25
Hours of Operation - Mon-Sun 9:00 AM - 9:30 PM
Icebox Cafe - This cafe offers natural, fresh, and a variety of appetizing food choices. The favorites on the menu include: Avocado & Seed Salad, Icebox Cafe Vegan Bowl, and the Wild Salmon Burger.
Location - Gate A-13
Hours of Operation - 5:30 AM - 9:00 PM
Lemonade - Lemonade is a modern marketplace that serves a variety of different types of healthy options for people on the go, or for those wanting to dine in.
Location - Terminal 5, Departure Food Court
Hours of Operation - 5:00 AM - 11:30 PM
O'Hare International Airport
Cibo Gourmet Market - Cibo Market is the perfect place to grab a healthy and quick bite to eat. This market has all options of foods ranging from sandwiches, fruits, snacks, Mediterranean dishes to Sushi.
Location - Terminal 2 & 3
Hours of Operation - 4:00 AM - 10:00 PM
B Smooth - If you are looking for a healthy alternative, B Smooth is a great choice. This place offers custom salads, smoothies and juices.
Location - Terminal 3
Hours of Operation - 6:00 AM - 10:00 PM
We hope these tips help you enjoy exploring the many tastes that each city has to offer. With many of our Novasyte consultants traveling every day to support our med-tech clients throughout the US and Canada, we are constantly looking for helpful tips and tricks to staying healthy.
To submit additional travel tips, please email cmorello@novasyte.com.
To learn more about how our traveling Novasyte Consultants support our med-tech clients, explore our Contract Clinical Program and Field Technical Program.