Every year we announce our Consultant of the Year at a special event where all four Consultants of the Quarter travel across the country to the Novasyte home office in San Diego. Following this year's event, we wanted to set up some time with our winner, Dan Cary, to discuss what makes him tick and the keys to his success.
Below you will find the 3 Keys to Success that Dan shared on how best to get up-to-speed as a new Novasyte employee and then how to stay engaged and inspired.
Take your time to learn the Novasyte way.

"It took me a good year to feel comfortable when I started at Novasyte. Everything is new and exciting at first, but there are inherent challenges with traveling and getting up-to-speed on the 'Novasyte way' takes time.My advice to those who are new to Novasyte is to be patient, use the resources, call your Account Executive, or sit down for a 10 minute break if you need to. You may know your medical job, but like with anything new, it takes time to get use to a new process. When you stick it out, you will find your niche and you will be better at your job overall. It's worth it."

Reach out to other consultants more frequently.

"Being a traveling employee, sometimes it's easy to feel disconnected or stranded. Something that helps me is reaching out to other consultants to bridge that connection when I'm traveling. In moments where I feel stranded or there is an issue, I can reach out to my Account Manager and get a call back in less than 10 minutes. And unfortunately, as we all know, there will be issues at times when you're traveling."

Make the work personal.

"As someone who started in the medical field later in my life, everything I do is with the context that there is/will be a person connected to the machine. It's always very personal to me. I know many others feel like this in the medical field. When educating, I try to stress to those I am training that 'this is your mother under the machine.' Not that I assume they aren't feeling this way, but it's important to me that they understand the impact of what they're doing. This is one way I try to make my work more personal. I also leave my cell phone and email address every place I go. From time-to-time I get calls and I try to make myself available - after all, this is a team effort."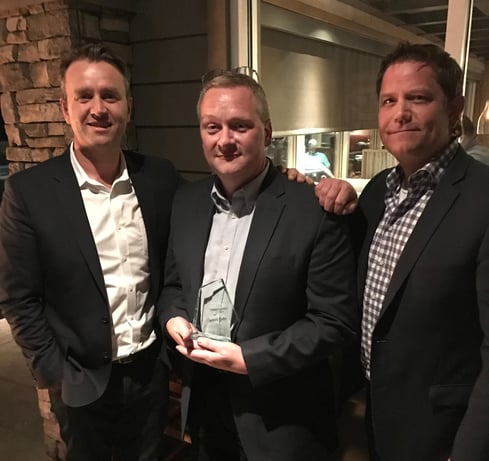 Dan Cary (center) being awarded 2016 Consultant of the Year at the Annual Event. Tim Gleeson (left) and Joe Andrew (right).